Basic Bible Christianity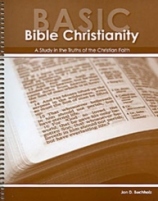 Our Basic Bible Christianity Class is for people interested in becoming members of Shepherd of Peace, as well as for people just looking to build their faith through a study of the basic teachings of the Bible. If you would like to attend, please register below. Childcare is available upon request. Everyone is welcome!



When: Wednesday nights @ 6:30pm. Inquire about when the next session is beginning!

Where: Shepherd of Peace Lutheran Church.
Cost: None.

Materials: Will be provided.

Childcare: Available upon request.

Register: Click HERE or call the church office at 614-786-7226

Questions? Call the church office (614-786-7226)